Zachary Rhodes
---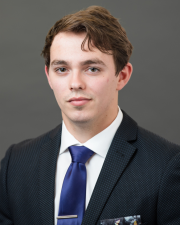 Biography
—
Graduate Research Assistant                         August 2021 – Current
Researched optimized waypoint selection for the Zero-Effort-Miss and Zero-Effort-Velocity guidance algorithm.
Developed preliminary mission and spacecraft budgets for a rendezvous mission to the asteroid 2010 TK7.
Undergraduate Research Assistant               December 2020 – July 2021
Assessed the risk of utilizing UAVs within the vicinity of airport runways.
Performed a literature review of risk assessments and previous wake vortex research.
Estimated satellite drag coefficient with the incorporation of atomic oxygen absorption.
Undergraduate Teaching Fellowship              January 2020 - May 2020
Enhanced student learning by assisting students with Siemens NX and course material issues.
Created detailed step-by-step procedures for in-class assignments.