Dr. Huixuan Wu Earns National Science Foundation Career Award
---
Five assistant professors at the University of Kansas have each received a prestigious grant designed to help early-career faculty members in STEM disciplines establish a lifetime of leadership in their respective fields.
The National Science Foundation CAREER awards went to three recipients in the School of Engineering and two in the College of Liberal Arts & Sciences. The engineering recipients were Gibum Kwon, assistant professor of mechanical engineering; Xianglin Li, assistant professor of mechanical engineering; and Huixuan Wu, assistant professor of aerospace engineering. The CLAS recipients were Chris Rogan, assistant professor of experimental physics, and Emily Witt, assistant professor of mathematics.
"This recognition forecasts great promise for these KU faculty who represent the future of their fields and are already making discoveries and innovations that will help us understand and change our world for the better," said Simon Atkinson, vice chancellor for research. "They join 49 previous CAREER award winners across the Lawrence campus – a number that speaks to the sustained strength of KU's research community."
The five-year awards are designed to support "early-career faculty who have the potential to serve as academic role models in research and education and to lead advances in the mission of their department or organization," according to NSF.
"From my time serving on NSF panels, I know that these CAREER grants are incredibly competitive and rare. The fact that NSF will be making these investments at KU speaks volumes about the quality of our junior faculty and their promise for making substantial impacts in their own disciplines and beyond," said John Colombo, interim dean of the College. "I am pleased to congratulate all of our awardees, and I think we should all acknowledge the time and effort that they each had to devote in order to be afforded this exceptional opportunity. I wish them the best of luck with their projects."
Dean of Engineering Arvin Agah said the awards serve as a source of pride for the university.
"This is a tremendous accomplishment for these faculty members and shows the potential for their research to benefit society," Agah said. "It positions them as role models for other early-career faculty and sets them on a course to be leaders throughout their academic careers. This type of recognition elevates the stature of KU Engineering and is a great example of the world-class research and teaching conducted at the University of Kansas."
The NSF first issued CAREER awards in 1995. Since then, KU's Lawrence faculty has included 54 recipients: 19 in the School of Engineering, two in the School of Pharmacy and 33 in schools and departments across the College of Liberal Arts & Sciences.
A summary of Dr. Huixuan Wu and his awarded research is found below:
Huixuan Wu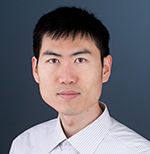 Wu, who came to KU in 2015, was awarded $500,000 to peek into the often opaque heart of "complex particulate flows" to understand the internal mechanics of fluid matter in motion.
Observers can see what's happening on the surface of a muddy, dirty river, Wu said, but there are many important things happening beneath the surface and unavailable to the naked eye. "If you want to imagine the motion of a muddy, dirty river, you have to see through it," he said. Wu plans to develop a magnetic-based measure of liquid motion so scientists don't have to rely on visuals to understand how they work.
"From a scientific point of view, there are a lot of motions in the universe that people have been able to study only because they see them," Wu said. His research, he said, could lead to technologies that help scientists better predict everything from landslides to the flow of oceans.
"This can tell you how a landslide occurs —  if you understand that, you can prevent disasters," he said. "One day, when we collect a sufficient amount of data, we should be able to develop a better predicting system."