Nathan Wolf
---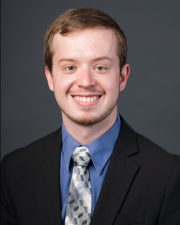 Biography
—
My name is Nathan Wolf, I am a second year Masters of Science student under Dr. Ron Barrett with a coursework emphasis on aerospace configuration and integration researching aerial gunnery and ballistics.
I have proven analysis skills having worked at Boeing this past summer where I configured, integrated, evaluated, and optimized five aircraft to aggressively compete with competitors. During this process I worked collaborated with various disciplines including production, manufacturing, flight science, and propulsion teams to integrate new technologies and improvements. I've also been a member of AIAA design competition teams leading two missile design teams to place 3rd and 2nd in the past two years of competitions. I am also serving as the graduate teaching assistant for students in the KU Aerospace Engineering senior capstone aerospace systems design course. My current master's research is modifying, manufacturing, and testing patented ballistic technologies.
In addition, I have gained valuable hands-on experience having worked in an R&D lab for a summer where I conduced and assisted on various tests including vibration, HASS, HALT, temperature, airflow, capacity, proof, and burst on heating, cooling and bleed air systems for Safran Ventilation System Oklahoma. I possess critical thinking and analysis skills, having audited an entire corporate billing process during another summer, identifying liability concerns and billing discrepancies that saved the company over $15,000 annually in mis-billed revenue.
I've also had the unique opportunity to see firsthand how cultures in Europe, Africa, and Asia approach engineering challenges, having grown up overseas as well as having been able to travel back to Europe to study at TU Delft as an undergraduate student. More importantly, I have leveraged these opportunities to hone my communication and interpersonal skills, cultivating an open mindedness that comes from learning how to effectively communicate across languages and cultural boundaries.
Education
—
M.S. in Aerospace Engineering, University of Kansas, Lawrence, KS
B.S. in Aerospace Engineering, University of Kansas, Lawrence, KS
Graduated with honors
Aerospace Engineering, Delift University of Technology, Netherlands